A malfunctioning safe lock can jeopardize the safety of your belongings and put you under stress. At Beach Locksmith, we understand the importance of securing your valuable assets. Our team of experts provides top-rated services for safe lock repair in Cocoa Beach and Brevard County, FL.
Whether your safe lock is jammed, damaged, or experiencing any other issues, our skilled locksmiths are here to help. With years of experience and a commitment to excellence in locksmith services, we can efficiently diagnose and repair your safe's lock to restore its functionality and security.
The Importance of Safe Lock Repair
Secure Your Valuables with a Functioning Safe Lock
A safe lock is the first defense against unauthorized access to your valuable belongings. Whether it's important documents, jewelry, cash, or other cherished items, a properly functioning safe lock ensures that your possessions remain protected from theft and other threats.
Addressing Malfunctioning Safe Locks Promptly
Ignoring issues with your new or used safes lock can lead to more significant problems and compromise its security features. It is essential to address any signs of malfunction promptly to prevent potential lockouts, further damage, and unauthorized access.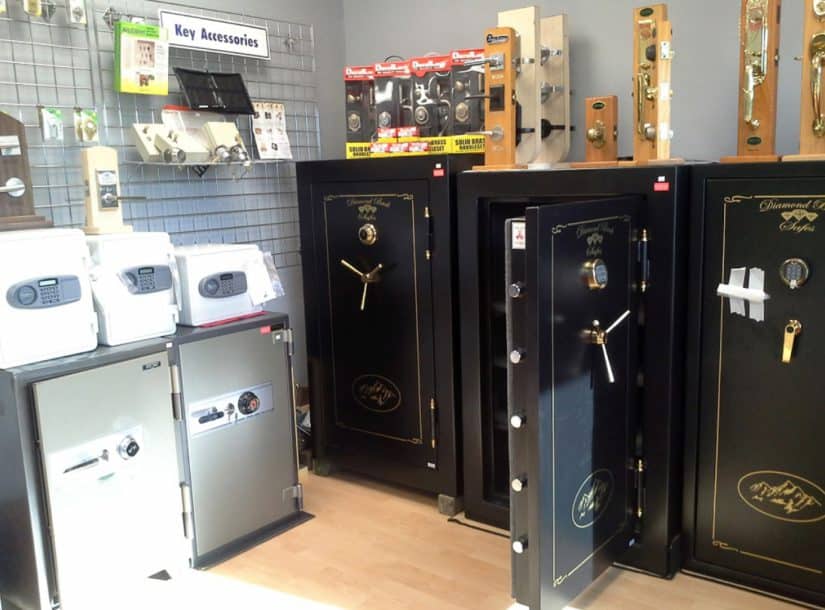 Safe Lock Repair Services for Cocoa Beach & Brevard County
Mechanical Safe Lock Repair
If you have a traditional mechanical safe with a combination lock or key-operated lock, our locksmiths are well-versed in diagnosing and repairing mechanical lock issues. We can fix jammed locks, reset combinations, and replace damaged components to restore the functionality of safes.
Electronic Safe Lock Repair
Our experts have the expertise to handle electronic safe lock repair for safes equipped with electronic keypad locks or biometric systems. Whether it's a faulty keypad, dead batteries, or malfunctioning biometric sensors, we can efficiently troubleshoot and repair electronic safe locks.
The Beach Locksmith Safe Lock Repair Process
Comprehensive Assessment: When you contact us for a safe lock repair in Cocoa Beach and Brevard County, our team will thoroughly assess your safe's lock. We inspect the lock's condition, identify the issue, and provide an accurate diagnosis.
Expert Repair Solutions: Once we have identified the problem, our skilled locksmiths will implement the necessary repair solutions. We use high-quality replacement parts and state-of-the-art tools to restore your safe lock to optimal working condition.
Testing and Quality Assurance: After completing the safe lock repair, we rigorously test the safe lock to verify its functionality and security. Our meticulous testing process ensures that your safe operates smoothly and provides the protection you expect.
Preventative Maintenance Advice: Besides repairing the lock, we offer valuable advice on maintaining your safe's lock to prevent future issues and extend its lifespan. Regular maintenance can significantly enhance the performance and durability of your safe lock.
Advantages of Choosing Beach Locksmith for Safe Lock Repair
Highly Skilled and Certified Locksmiths: Our safe lock repair and safe unlocking specialists are extensively trained, experienced, and certified professionals. They stay updated with the latest safe lock technologies and repair techniques to deliver top-notch service.
Prompt Response and Emergency Services: We understand the urgency of safe lock issues, and our team is available 24/7 to provide emergency safe lock repair services. You can rely on us to address your lock-related concerns promptly and efficiently.
Trusted by the Community: Beach Locksmith has earned a reputation for excellence in safe lock repair and other locksmith services in Cocoa Beach and Brevard County. Our satisfied customers vouch for our professionalism and commitment to customer satisfaction.
Transparent Pricing: We believe in transparent and fair pricing for all our services. Our upfront pricing with no hidden charges ensures that you know the repair cost before we start, so there are no surprises.
Reliable Safe Lock Repair Brevard County | Techniques Used by Professional Locksmiths
Professional locksmiths employ various reliable safe lock repair techniques to restore the functionality and security of malfunctioning safe locks. These techniques address different types of safe locks, including mechanical, electronic, and biometric locks. Here are some of the most common safe lock repair techniques used by professionals:
Lubrication
Often, a safe lock may malfunction due to lack of lubrication or the accumulation of debris inside the lock. Professional locksmiths use lubricants to clean and lubricate the lock's internal components. This helps reduce friction and ensures smooth operation, resolving issues like sticking or stiff locks.
Realignment of Components
In mechanical safe locks, misaligned components can lead to difficulty turning the dial or properly operating the lock. Locksmiths carefully inspect the lock's components and adjust or realign them to ensure they function smoothly and accurately.
Rekeying
Rekeying is a technique used for keyed locks to change the lock's internal configuration without replacing the entire lock. If a safe lock has been compromised or there is a security concern, rekeying allows locksmiths to alter the lock's key code, rendering previous keys ineffective.
Combination Reset
Professionals can reset the lock's combination to resolve issues caused by forgotten or misplaced combinations. This process requires precision and knowledge of the lock's mechanism to set a new combination without compromising security.
Replacement of Damaged Components
If certain components within the safe lock are damaged or worn out, locksmiths can replace them with high-quality, compatible parts. This includes damaged springs, pins, tumblers, and electronic lock components.
Electronic Keypad Repair
For electronic safe locks with keypad entry, locksmiths diagnose and repair issues related to faulty keypads, unresponsive buttons, or damaged electronic circuits. They may also replace worn-out batteries to restore proper function.
Resetting Biometric Systems
Biometric safe locks use fingerprint or retinal scans for access. When these systems fail to recognize authorized users, professionals can recalibrate or reset the biometric data to enable correct identification and entry.
Safe Lock Reconditioning
Reconditioning involves disassembling the safe lock, cleaning each component thoroughly, and then reassembling it. This process helps restore worn-out parts and optimize the lock's performance.
Safe Lock Upgrade
In some cases, upgrading the safe lock to a newer, more secure model may be more cost-effective, especially if the existing lock is outdated or severely damaged. Professional locksmiths can recommend and install upgraded locks to enhance security.
Electronic Control Unit (ECU) Reset
For electronic safe locks with advanced security features, the ECU may need to be reset if it becomes unresponsive or experiences technical issues. A locksmith can perform an ECU reset to restore the lock's functionality.
You should remember that safe lock repair requires specialized knowledge and experience. Attempting DIY repairs on a safe lock can lead to irreversible damage and compromise your safe's security. Therefore, you should seek professional locksmith services to ensure the safety and integrity of your valuable possessions.
Choose the Leading Safe Lock Repair Specialists
When your safe lock is experiencing issues, don't take chances with its security. Contact Beach Locksmith for expert safe lock repair services in Cocoa Beach and Brevard County, FL. Our skilled locksmiths will efficiently diagnose and repair any problems with your safe lock, ensuring your valuable possessions remain protected.
With our prompt response, reliable solutions, and dedication to customer satisfaction, we are committed to maintaining the security of your safe. Call us today at (321) 341-2068 or fill out this online form to schedule an appointment and experience the Beach Locksmith difference.