If you are looking for the ultimate protection for your valuables, firearms, and important documents, you can't go wrong with Merik Safes. As you bask in the sun-soaked paradise of Florida's Space Coast, you deserve the certainty that comes with knowing your prized possessions are safeguarded.
Merik Safes in Cocoa Beach & Brevard County, FL protect your possessions from theft and fire, ensuring they remain safe even in the most challenging circumstances. Here are the features that make Merik Safes the best in business.
Exclusive Safe Designs
Merik prides itself on offering one-of-a-kind safe designs that you won't find anywhere else in the world. Their team of experts constantly innovates and develops new ideas, ensuring each Merik safe has a unique blend of form and function. With their commitment to excellence, they create products that meet and exceed industry standards.
Take, for example, the MERIK Astro Heavy Duty Utility Safes, which provide high security and fire protection for residential and commercial applications. These safes boast a 60-minute fire rating at 1200°F, proprietary cement mix insulation, and an impressive "Safe within a Safe" construction with a 5/32″ exterior steel body, cement-filled body, and 5/32″ inner steel liner.
Merik Safes in Cocoa Beach, FL offers exclusive designs with well-thought-out specifications and features tailored to provide optimal security for your valuables. The brand understands that every individual's needs are different, so they strive to create safes that cater to a wide range of requirements.
Price Match Guarantee
Merik has a price match guarantee: if you find a lower price for the same gun safe elsewhere, the brand is committed to matching or beating that price. So you can rest assured that you're always getting the best possible deal on the latest Merik designs and models.
Fire Protection and Robust Construction
Merik Safes in Brevard County, FL are meticulously designed to provide robust protection against burglars and fire damage. They achieve this by incorporating the following features:
Fire protection: Built with fire-resistant materials and insulation, Merik Safes provide a high level of protection against heat and flames. Many of their safes are rated for fire resistance, with some models offering up to 2 hours of protection at temperatures as high as 1,875°F.
Heavy-duty construction: They are constructed using thick, high-quality steel to create a formidable barrier against theft. The steel thickness varies depending on the model and security level, with some safes featuring multiple layers of steel and a proprietary cement wall fill for added security.
Reinforced doors and locking mechanisms: Each safe has reinforced doors featuring multiple layers of steel and fire-resistant materials. The doors are designed to resist pry attacks, and some models even include inner steel security liners for added protection. Merik Safes also utilize high-quality locking mechanisms, like electronic, biometric, and mechanical locks.
Anti-drill and anti-tamper features: To further deter theft, Merik Safes in Cocoa Beach & Brevard County, FL include anti-tamper and anti-drill features, like hardened steel plates and relockers. These elements protect the locking mechanism from drilling and punching attacks, ensuring that your safe remains secure even if burglars attempt to bypass the lock.
Privacy and Online Security
Merik and its dealers understand the sensitive nature of purchasing a safe to protect your valuable possessions. That's why they prioritize protecting your privacy and online security.
To ensure your online security, our locksmiths at Beach Locksmith work with Merik to use the latest encryption technologies and secure payment methods on our website. This helps keep your data safe from potential hackers and unauthorized access. We also follow strict data privacy policies, so your personal information is never shared or sold to third parties.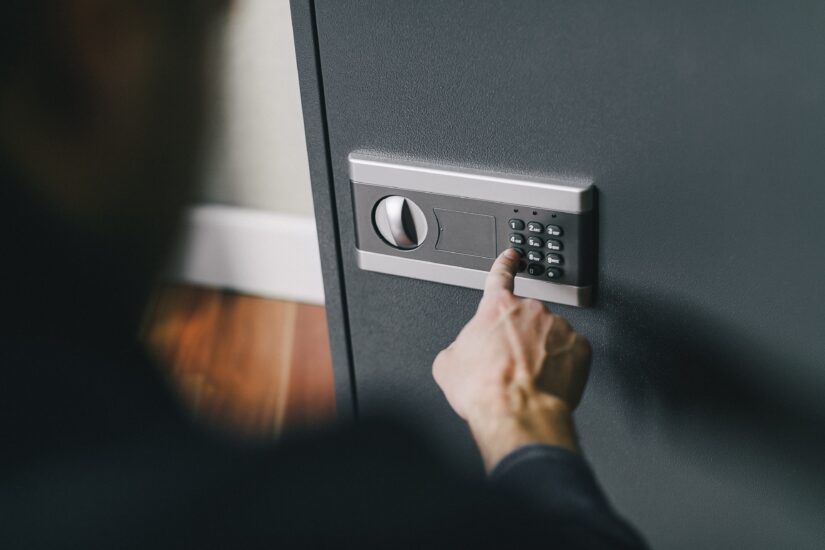 Outstanding Warranty
Merik Safes in Cocoa Beach & Brevard County, FL stands behind the quality and craftsmanship of their safes by offering a Limited Lifetime Gun Safe Owner Warranty. This warranty ensures that, should your Merik safe experience any defects in materials or workmanship under normal use and conditions, they will repair or replace the affected parts at no cost to you for the life of the safe. This coverage extends to locking mechanisms, locking bolts, and welds.
In addition to covering defects, Merik's warranty also offers support in case of a burglary attempt or fire. If your safe is damaged during a burglary attempt or fire, the company will provide a replacement safe free of charge.
Innovative Designs
One of many ways Merik delivers superior quality is by focusing on the construction and materials used in their safes. They employ high-quality steel, inner steel security liners, and proprietary fire-resistant cement wall fills to create a "safe within a safe." This attention-to-detail results in products that deliver unmatched protection against theft and fire.
Discover the Perfect Merik Safe for Your Needs: Contact Beach Locksmith Today
At Beach Locksmith, the focus is always on the customer. As an authorized dealer of Merik Safes and several other leading brands, we understand that each person has unique requirements for securing their valuables, and we take the time to get to know those needs. Our safe locksmith team patiently listens to your concerns and preferences, so we can make tailored recommendations that suit your situation.
Our goal is to sell you a safe and help you find the perfect security solution within your budget. Investing in a safe is a long-term decision, and the right safe will provide you with peace of mind for years to come. Your security and satisfaction are our priority at all times.
If you have any questions about Merik Safes, or you'd like recommendations about specific models, you should get in touch with us online or call us at (321) 783-4118.